National Congress of the Indonesian Society of Internal Medicine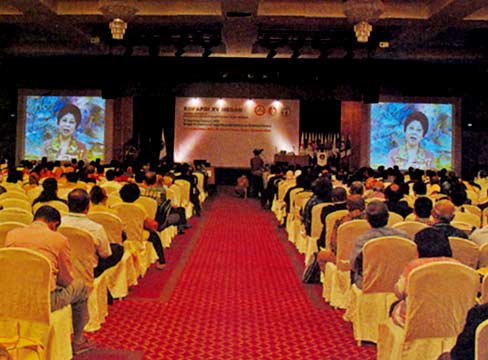 National Congress of the Indonesian Society of Internal Medicine in Medan, Northern Sumatra, Indonesia, December 2012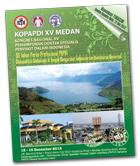 In December 2012, the Indonesian Society of Internal Medicine organized a National Congress in Medan, Northern Sumatra. The meeting was attenden by around 3000 participants. The International Society of Internal Medicine was represented by its Sectretary General, Prof. Hans-Peter Kohler. He was invited for a plenary lecture entitled «The internist's role in the present era of medical care».
Here is the abstract of the lecture:
The internist's role in the present era of medical care
Hans P Kohler, Professor of Medicine, Secretary General, International Society of Internal Medicine (ISIM), University of Bern, Switzerland
Population ageing is unprecedented, without parallel in human history. It is a global phenomenon, but countries are at very different stages of the process, and the pace of change differs greatly. Further to that, population ageing is enduring and has profound implications for many facets of human life including medical care. Shrinking birth rates and longer lives are changing the demographic landscape of countries worldwide.
The increasingly large number of older people – aged 60 years and plus – is thus dependent on a proportionately shrinking resource, that is on younger people and, in particular, younger relatives. Indonesia will face the same problem as everywhere in the world what is reflected by the expected population pyramid of Indonesia in 2050:

While access to primary health care is crucial in maintaining good health into older age, adopting a healthy lifestyle throughout life is just as important. Some kind of care system has to be in place and that system has to be funded. According to World Health Organization (WHO) statistics, older people are the fastest-growing age group worldwide. By 2050, two billion people – or nearly one out of every four people – will be older than 60 years. This population ageing is occurring fastest in less-developed countries, which have consequently had less time than developed countries to build the infrastructure and tools to deal with this major social transition. By 2050, 80% of the world's older people will be living in these countries.
What type of doctor does treat these patients in the future? General Internists are needed, since multimorbidity correlates with age and might represent the most common «disease pattern» found among the elderly. General Internists are required to treat the elderly patient in a cost-effective manner. Only Internists are capable to cope with the disease pattern among the elderly since multimorbidity is characterised by complex interactions of co-existing diseases where a medical approach focused on a single disease does not suffice.
Today, multimorbidity is turning into a major medical issue for both, individuals and health care providers. The current fragmented health care system does not meet the complex needs of multimorbid patients. Integrated health care models with well-balanced treatment plans tailored towards the needs of the individual person are required.
Complex disease patterns require practices and approaches (in diagnostics and therapy) which differ substantially from traditional approaches focused on a single disease. This fact implies the important role of Internists in primary care in the community as well as in hospitals, out-patient clinics and emergency units. Internists are capable of providing care for complex disease pattern in a cost-effective matter.
Internists represent the «General manager» of the patient like a «CEO» but are also the managers of costly resources. First point of consultation should be an Internist/Generalist. This Generalist decides whether a specialised medical consultation must be provided by a Specialist.
Primary care is the backbone of every health care system and is cost effective. Fragmentation in patient care is not future-orientated. We need to preserve the internist's holistic capabilities. Unfortunately there is an increasing lack of Generalists/Internists globally. The reasons are complex. First of all an improvement of the payment system is needed. Compared to specialist doctors General Internists are usually payed much less despite of their important role in providing cost-effective care as first point of consultation. In addition to that, the implementation and strengthening of curricula in «General Internal Medicine» at universities and teaching hospitals is also important. Last but not least, research in «polymorbidity» to develop «evidence based guidelines» in the elderly patient is needed since there is only little scientific knowledge available for appropriate diagnostic reasoning, care and treatment for multimorbid patients.
A career as a Generalist/Internist must became more attractive and the growth of new subspecialties focusing on one organ system must be reconsidered since every health care system has limited financial resources. The role of Internists will become even more important in the future since population ageing and multimorbidity will have profound implications for every health care system.
Prof. Hans P Kohler
Secretary General ISIM
December, 2012
In addition to this lecture, the Secretary General of ISIM took also part at an interactive seminar about the «future role of internists in Indonesia».
Photo impression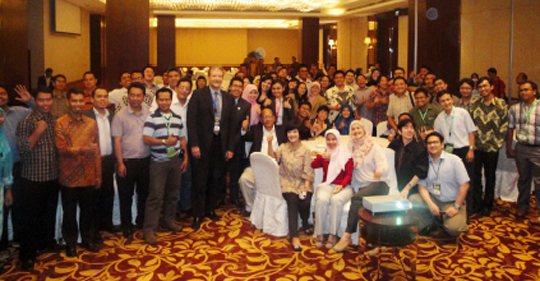 Seminar on the future role of Internist in Indonesia.