VIII Russian Congress of Internal Medicine, organised by the Russian Scientific Medical Society of Internal Medicine (RNMOT) held on November 20-22, 2013 at the Crocus Expo Center, Moscow, Russia
.
The congress was a very well organised meeting with the participation of more than 4000 internists and young doctors, with the presentation of more than 110 scientific sessions and a strong support by the industry. A broad spectrum of internal medicine topics where covered. Among the speakers, there were representatives from international societies as Dr. Serhat Unal from the Turkish Society of Internal Medicine, Dr. Frank Bosch (Netherlands) President elect of the European Federation of Internal Medicine (EFIM) and Dr. J.W.F. Elte (Netherlands) Past Secretary General of EFrom left Dr. Valentin Kokorin, Dr. Andrey Spassky, Dr. Rodolfo Bado, and Dr. Martynov Anatoly FIM. The International Society of Internal Medicine was represented by Dr. Rodolfo Bado, President of ISIM presenting lectures on "Heart Failure: internist´s view" and "Pulmonary Embolism Prevention".
The congress authorities, Dr. Martynov Anatoly President of RNMOT, Dr. Andrey Spassky Secretary General, Dr. Valentin Kokorin Scientific Secretary and Mikhail Voevoda were upmost kind offering an unforgettable scientific, cultural and friendship experience.



From left Dr. Valentin Kokorin, Dr. Andrey Spassky,
Dr. Rodolfo Bado and Dr. Martynov Anatoly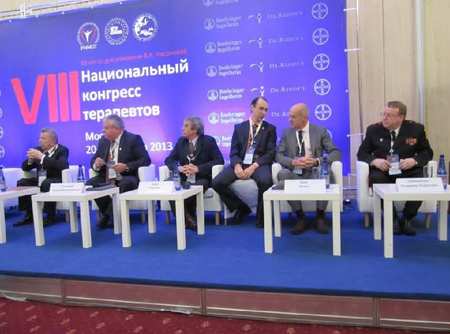 Moscow Opening Ceremony